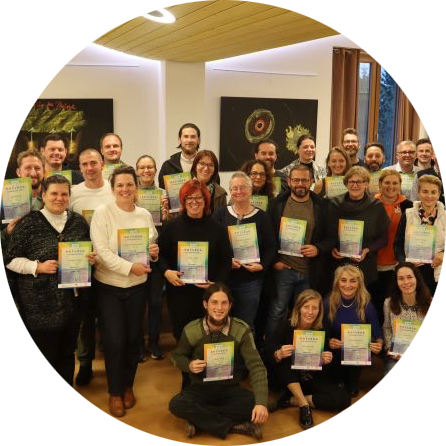 For more than 20 years Reto Ingold has been on a consulting mission in South-Eastern Europe. He has come to the sobering realisation that the biodynamic pioneers are completely focused on their contacts with purchasers in Western Europe. So far they have hardly noticed each other. He reports.
The wish for a mutual meeting of all these actors, a Southeast European conference, has accompanied me for a long time. Wanderschule, with its core concern of networking, awareness and help with self-organisation, offers the ideal space for this, even if only virtually at the moment.
The unimaginable for me has been achieved! Matjaz Turinek and Maja Kolar (Demeter Slovenia) brought all the "old hands" to the conference table. Open and honest reports were given – of great visions, but also of great difficulties in putting them into practice. Mimi Nadarewa from Bulgaria presented her work with biodynamic roses, Theo Kontogiannis from Greece earned a lot of attention with his herbs and sultanas. Zoran Petrow from Serbia told about his organic dairy, Radovan Suman from Slovenia gave an impressive introduction to his cultivation and development of sulphur-free, natural amphora wines. Through the lively presentations, mutual respect grew – noticeably also in the virtual space! An unbelievable diversity of cultures, natural environments and people opened up, a feeling of solidarity emerged. Giving space to this process, creating a trusting, collegial atmosphere to strengthen the substance for Biodynamic work was the real success of the conference, a success of all actors.
I am convinced that this exchange promotes mutual understanding, creates ground for regional cooperation and mutual support. We are helping to build up an independent biodynamic advisory service so that new farms convert and feel at home in the circle of biodynamic agriculture. The potential of this climatically, soil-specifically and culturally special region for biodynamic development is huge, and many more farms can find a good economic basis in it.
And last but not least, the exchange across the small national borders creates a perceptible substance of peace. It is not the old war traumas that are in the focus, but a new common peacemaking work on the future of agriculture. In the Wanderschule we are aware of this valuable substance-building and we are grateful to be able to support it. Reto Ingold Bild: Landwirtin Amalka Vukelic aus Donji Kraljevec, Kroatien